Constraint Key
Ah constraints. They are useful. Oh so useful, and oh how frustrating they are.
Sometimes you need a really quick way to stick one object to another for a few frames. Setting up a full constraint for this task is complete overkill. This is the purpose of the tool below!
To install, download the following file and drag - drop it into Maya's viewport.
constraintkey
You will get a new shelf icon in whichever shelf is currently active.
To use the tool: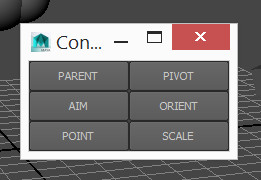 Click the shelf icon. You will get a new window popup.
Select one or two objects.
(Optional) Select a range in the timeslider to limit the keying to that range.
Press the button of the constraint you want.
TIPS:
Select the driver first, then the driven object. Just like normal constraints
Selecting one object only will constrain it to the "world". This means it will be kept stationary. This is useful if it is in a parented hierarchy and you want it to stay still.